The Zip Line Experience!!!

My life seems to get boring lately. All I did this past few months is work and sleep and do movie marathons. It seemed like I've been trapped in this polluted city.
I miss breathing the fresh, clean air in the province. I miss doing outdoor adventures with friends back home.
It was a year ago when I went home to recuperate from tuberculosis. A week after feeling sick and bed ridden at home, me and my friend Nimfa along with her sister and friends decided to do an outdoor adventure in Camp Sabros which is located in Kapatagan - the Summer Capital of Digos City. It is where the longest Zip line in the country was built.
It was a nerve racking experience! Imagine? I was able to zip my way from one mountain to another! The Zip line was 380 meters long. And while you're zipping your way to the other mountain, it felt like flying and you're actually 180 ft high across the forest right below.
I paired with my cousin Jayson when I decided to zip! And to show you guys how it was, here's the video of our
zip line experience
!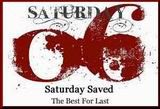 You're invited to join Saturday Saved – The Best For Last. Please grab this code at

[[ WmotH ]] Saturday Saved-The Best For Last link is meant for Saturday Saved participants only
Please enter the your Saturday Saved Post URL by clicking on Master Linky Banner below.