Saturday Saved The Best For Last #2
Horror movies, scary documentaries, weird costumes, candles - these are some of the manifestations of Halloween. It's that time of the year that people like scaring themselves.Here in the Philippines, most Filipinos pay tribute to their deads. A lot of them are flocked in cemeteries and are busy cleaning up the tombs and
celebrating
. Yes, you won't see them grieve over there. In fact, you will even see disco lights in some cemeteries. People bring buffet of foods and candles and flowers. This is also the time for family reunions.
I don't participate in such chaos because I am scared of getting suffocated in a crowded place. I would want to visit my loved ones' grave but definitely not on Halloween. I'd rather stay at home and watch movies or horror flicks. Or work, as the case may be.
I remember when I was a child, me and my friends gather in one of our neighbor's house and tell scary stories about ghosts, vampires, supernatural creatures like
maligno
or
aswang
(Filipino mythical creatures) . While we were focused on discussing and scaring our butts off, one would boo us (especially the older ones) and everybody screams! hahaha! Childhood days were really fun!
Trick or treat is not that common here in the Philippines especially in rural areas (well, not in our province). It would've been so much fun if we have that when I was a kid. I can stay up late gathering assorted candies and wear costumes with friends. I would've enjoyed some more scary times with my buddies. If I will have kids in the future, I'll let them do trick and treat! Hah! Wishful thinking!
Happy Halloween everyone!!!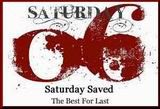 You're invited to join Saturday Saved – The Best For Last. Please grab this code at

[[ WmotH ]] Saturday Saved-The Best For Last link is meant for Saturday Saved participants only
Saturday Saved link is only meant for Saturday Saved participants. If you are not joining Saturday Saved with your own Post but register a non-Meme Post here, a dishonest link will be deleted. Sorry, but that's how the Meme Rule works.
Please enter the your Saturday Saved Post URL by clicking on Master Linky Banner below.